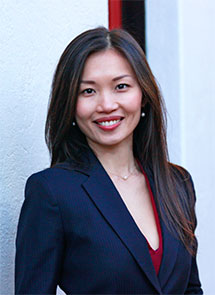 Dr. Sarah Choi
FRANZCOG, FHKCOG, FHKAM(O&G), MRCOG(London), MBChB
Gynaecologist and Advanced Laparoscopic Surgeon
Sydney Women's Endosurgery Centre (SWEC)
Sydney West Advanced Pelvic Surgery (SWAPS)
Senior Clinical Lecturer, University of Western Sydney
VMO, St George Public Hospital, South Eastern Sydney
Visiting Medical Officer in Gynaecology & Advanced Endoscopy at:
Sydney Adventist Hospital
St. George Private Hospital
Specialist in Obstetrics and Gynaecology qualified with:
Royal Australian & New Zealand College of Obstetricians and Gynaecologists
Hong Kong College of Obstetricians and Gynaecologists
Hong Kong Academy of Medicine (O&G)
Dr. Sarah Choi is a gynaecologist who has spent the last ten years training in and pursuing specialty Gynaecology and Minimally Invasive Surgery (MIS) to the highest standard. She has special interests in pelvic pain and endometriosis, hysterectomy, menstrual disorders and abnormal vaginal bleeding, myomectomy (removal of fibroids), and pelvic floor disorders.
Dr. Choi is one of the Sydney-based female Gynaecologists who have completed advanced training in laparoscopic surgery. She has gained accreditation in performing laparoscopic gynaecological surgery of the highest skill level (AGES Level 6)1.
Professional Qualifications and Honours
Graduating from the Chinese University of Hong Kong with Dean's List Honours in 2004, Dr. Choi has trained in the major university hospitals and tertiary centres in Hong Kong and Sydney. She was one of the team surgeons of the Endoscopic Unit at Prince of Wales Hospital in Hong Kong
In 2011, she took up post-specialist Fellowship in Advanced Laparoscopic Surgery at Sydney Women's Endosurgery Centre under apprenticeship of the Australian pioneers in MIS - Dr. Gregory M. Cario, Dr. David Rosen and Dr. Danny Chou. During the two-year intensive training, she gained not only skills in difficult laparoscopic surgery but also experience in managing complex gynaecological conditions. She contributed in clinical research, and has presented extensively on the latest advancement in gynaecological surgery and laparoscopic techniques. She has been awarded Best Free Communication and Best Surgical Video in national and international congresses. She has also lectured as invited speaker in various international conferences in Australia, Hong Kong and China.
Academic Appointments
Dr. Choi has an academic appointment as Senior Lecturer in Obstetrics and Gynaecology with the University of Western Sydney, contributed to training of future doctors in the Medical School. She also supervises and assesses students in Master Degree Program of Advanced Gynaecological Surgery. She is one of the associate surgeons of Sydney West Advanced Pelvic Surgery, participating as a trainer of Endoscopic Fellows. She currently teaches regularly in the reputable Advanced Laparoscopic Workshops of Sydney Women's Endosurgery Centre.
Commitment to Public Health Service
Dr. Choi is committed to serving women from all backgrounds in our community. In her capacity as a Staff Specialist at Liverpool Hospital in South-Western Sydney, Dr. Choi runs a gynaecological clinic, a high-risk pregnancy clinic and a One-Stop Early Pregnancy Clinic. There, she manages complicated gynaecological problems referred from local GPs and Gynaecologists, and is in charge of both emergency and elective gynaecological surgery sessions. She mentors and supervises obstetricians & gynaecologists-in-training. Dr. Choi is also dedicated to improving maternity care and making childbirth safer; she conducts multidisciplinary workshops to Midwives and Obstetricians as a certified PROMPT (Practical Obstetric Multi-Professional Training) course trainer.
Compassionate Gynaecological Care in Sydney
Dr. Choi established her private practice in 2014. She consults in Chatswood on the North Shore of Sydney and in Kogarah in Sydney's South East and performs surgical procedures in two state-of-the-art private hospitals – Sydney Adventist Hospital an St. George Private Hospital.
She believes in treating women the way they should be - with empathy, compassion, respect and dignity.
Dr. Choi speaks English, Cantonese and Mandarin.
1Guidelines for performing advanced operative laparoscopy – Consensus statement of the Royal Australian & New Zealand College of Obstetricians & Gynaecologists (RANZCOG) and the Australasian Gynaecological Endoscopy & Surgery Society (AGES)